Best Petite Hiking Pants For Women 2023
The Best Petite Hiking Pants
This post contains affiliate links. If you click and make a purchase, I may receive payment at no additional cost to you. I only recommend products and brands I know, use, and trust and that I think you would like too. You can read my full disclaimer policy here.
Hiking pants that fit, wear well, and don't "grow" as you wear them can make your hike a pleasant experience or an exercise in frustration. It takes time to find the right pants for your body.
I've been a hiking and backpacking guide since 2017 and I've worn or seen just about every pair of hiking pants. I've been there with the duct tape when a pair had to be hemmed in the field, and I've seen the seam splitting and random holes.
I'm pretty picky myself and, at 5 foot 3 inches, I get how hard it is to find petite hiking pants. You're going to have to give a little, but there's a great pair out there waiting for you!
Here's a quick rundown of our votes for the Best Hiking Pants for Petite Hikers.
Best overall Petite Hiking Pants: Outdoor Research Ferrosi
Best fit for higher waist: Columbia Saturday Trail Stretch Pant
Best fit for low-rise waist: Kuhl Freeflex Roll-Up Pant
Best convertible pants: Outdoor Research Ferrosi Convertible
Best pants for a curvier fit: prAna Halle II
Most flattering pants: The North Face Aphrodite 2.0
Just want to skip to the reviews? Jump ahead!
What Does Petite Mean?
Petite simply means someone 5 foot 4 inches or shorter. It has nothing to do with weight, size, et cetera. I stand 5 foot 3 inches with a size 8 to 10 and it annoys the crap out of me when people look at me and say "You're a petite?" with those judgy eyes. Yes, I am. I am short therefore I am petite.
And being a petite hiker I know how hard it is to find that elusive perfect fit.
There are two measurements you need to keep in mind when you look for pants, inseam, and rise.
The inseam is the measurement from the bottom of the pant leg to the middle of the crotch where the four seams come together. It's a measurement of the length of the pant leg.
The rise is the measurement from the top of the waist to the middle of the crotch. It will give you an idea of where the waist will fall on your body.
What to Look For When Choosing Petite Hiking Pants
Okay, look, I'm going to lay it out there – it is unlikely that you will find pants the right length. That's like finding a unicorn eating ice cream in a field of Skittles.
The bigger issue is the waist. Is the waist in the right location for you? Too high and you'll be yanking up the pants all day, too low and you won't be comfortable climbing up rocks or steps.
The length can usually be fixed. My mom hems all my pants, but I could do it myself if I wanted to.
Now I say mostly because there's an exception. It is insanely difficult to hem joggers, pants with elastic at the bottom. Mom refuses to do it and a professional tailer is going to charge around $30 minimum.
The second exception is rain pants. Just don't go there, trust me. It's better to find rain pants with snaps at the bottom so you can cinch them tightly and then let them sag around your ankles.
Compiling the List of the Top Petite Hiking Pants
I'm going to be 100% honest here. I can try on pants, but if they don't fit, I'm not going to wear them hiking. It's really not possible to truly know how a brand and style will fit over time and last. So, I asked trusted fellow petite hikers to give me their two cents and compiled the list below of the top hiking pants for petite hikers.
Surprisingly, there was a lot of commonality in the replies. Also, I personally own and regularly wear several of the top picks.
Since we're all unique, two honorable mentions are added to provide more variety.
The Best Hiking Pants for Petites
Without further ado, here are the top hiking pants for petite hikers.
prAna Halle II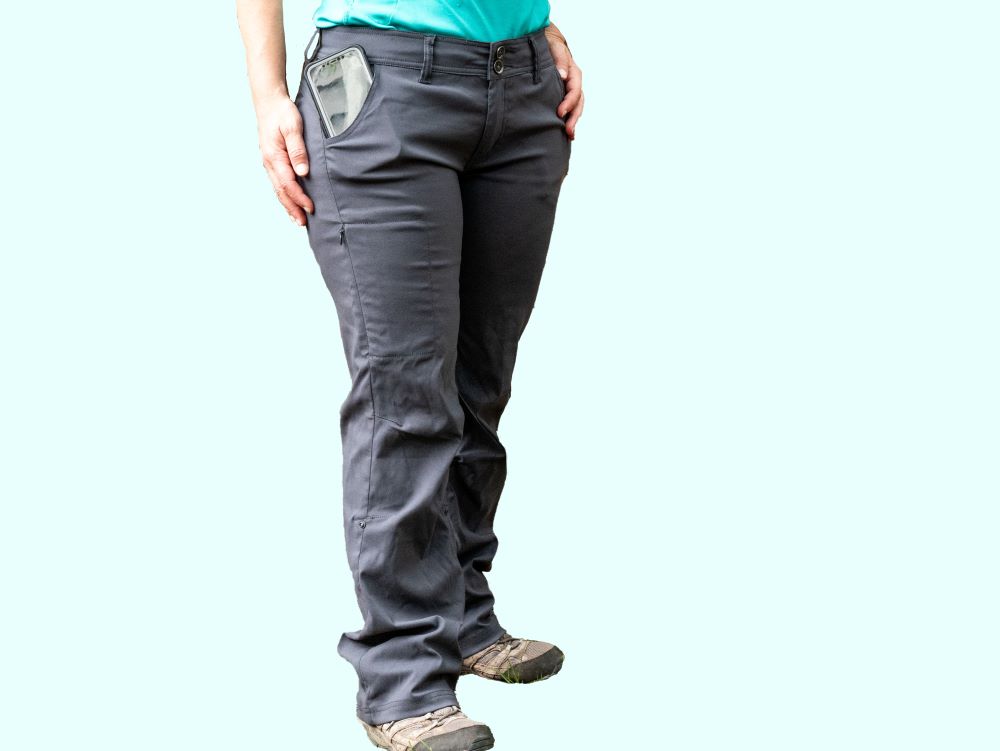 Materials: 95% Recycled Nylon/5% Elastane
Weight: 13.4 ounces
Retail: $95
Convertible Option: No
Phone: Doesn't quite fit in front pocket
Waist fit: Natural waist
Features: DWR finish, hidden zip stash pocket, roll-up legs, articulated knees
Pros: Consistent sizing, sturdy hiking pants
Cons: Stretch as you wear them, fit not as flattering as the older version
Prana is one of my go-to brands, and it turns out, many fellow petite hikers also love them. Their short (petite) pants offer a 30-inch inseam, one of the shortest I've seen. They used to sit lower but increased rise back in 2022.
Along with the higher waist, they made the thighs larger for a curvier fit. People either love or hate the newer version. Personally, I preferred the lower rise since I have a short waist. But if you like a higher waist and more room in the leg, then these are great pants.
The front fly features two buttons and a zipper for a polished look, but with a drawstring to help you keep them up where they belong.
The pants fit true to size and I've found the sizing to be consistent across different models and from year to year. The fabric is soft and will stretch as you wear it so if you're between sizes, consider going down.
prAna heard the complaint about pockets being too small and made them large enough to fit a phone in 2023. They also added back the UPF 50+. There's something to be said for a brand that listens.
Outdoor Research Ferrosi
Materials: 86% Nylon (46% Recycled), 14% spandex, 90D Stretch Woven Ripstop
Weight: 8.95 ounces
Retail: $99
Convertible Option: Yes
Phone: Fits well into front pocket with room
Waist fit: Natural waist
Features: Water-resistant, UPF 50, drawcord cuff adjustment, large pockets
Pros: Consistent sizing, sturdy hiking pants
Cons: Thin fabric
I had heard all the rave reviews about the Ferrosi pants and had to try them. They're one of the lightest-weight pants you can get, which is important for backpacking. These are my favorite pants ever.
If you read reviews, you'll see there are complaints the thighs are too tight and then complaints the pants are too large. This has to do with a redesign in 2022 where they created a tighter fit. This was reversed in 2023 and it seems they may have gone overboard.
Lightweight, barely-there material that moves with you and generous pockets make these an easy favorite. The pockets are so deep you could lose an iPhone 13 in them.
Outdoor Research seems to produce a limited stock of their clothing, especially women's. This makes it difficult to find the color and size combo you want when you need it.
They also seem to tweak the design every launch so be aware of small differences. Overall though, if you find a pair in your size and a color you want, they're definitely worth a try. You won't find a lighter pair of pants on the market.
Columbia Saturday Trail Stretch Pants
Materials: 96% nylon/4% elastane
Weight: 11.2 ounces
Retail: $70
Convertible Option: Yes
Phone: Fits in front pocket
Waist fit: At natural waist, slightly higher
Features: Water repellent, UPF 50, hidden zip stash pocket, roll-up leg, articulated knees
Pros: Consistent sizing, sturdy hiking pants
Cons: Small pockets, no drawstring
I've had my pair of Columbia Saturday Trail pants for years. Flattering with a bit of stretch and great coverage, they're perfect for hiking year-round in North Carolina.
The rise is slightly higher and there isn't a drawstring at the waist which is why I usually don't wear them backpacking. But for everyday hiking, they're perfect.
The inside of the waistband is lined in a soft material to add comfort and prevent chafing. I really like the overall cut which is large enough I don't feel like they're leggings but not so large I feel like I'm drowning in fabric.
Several other hikers mentioned the flattering cut, but I feel they're a bit boxy.
Columbia is eerily consistent with sizing across different models and from year to year. They don't change their winning models frequently which means there's a good chance you can resupply when you need them.
My Saturday Trail pants have held up well with moderate use.
The North Face Aphrodite 2.0
Materials: 56% Nylon, 37% Recycled nylon, 7% Elastane
Weight: 8 ounces
Retail: $80
Convertible Option: No
Phone: Fits in front pocket with room
Waist fit: Natural Waist
Features: 2-inch wide rib-knit waistband, UPF 40+, FlashDryTM technology to wick moisture, DWR finish
Pros: Flattering, comfortable, good size pockets
Cons: Some reports of pilling in the fabric, low inventory
I've owned my pair of Aphrodite capri pants for over 5 years and they've held up well. The fabric doesn't tend to stretch out as you wear them which is a plus for me.
While you may initially cringe at the words "elastic waistband", this is the exception. The North Face engineered it to be comfortable and flattering with a 2X2 rib-knit. It won't roll or bunch on you regardless of the activity. And it's actually flattering.
These are some of the most flattering hiking pants you can buy. They go from trail to downtown seamlessly. As a bonus, they also make a capri, which may be my favorite fall hiking pant.
A few things to note, since nothing is perfect, there are reports of the fabric pilling and I have seen this with mine. The pants are also heavy and not very breathable. I don't like to wear them in the summer, but they're great for fall.
Kuhl Freeflex Roll-Up Pant
Materials: 50% Polyester, 50% New Polyester
Weight: 11.9 ounces
Retail: $99
Convertible Option: No
Phone: Doesn't quite fit in front pocket
Waist fit: Below waist
Features: UPF 50+, stretch with rebound to maintain form, water-resistant finish
Pros: Lightweight, roll-up bottom with snaps, consistent sizing
Cons: Pants change every season, small pockets
I have Kuhl pants and love them. The company tends to change the lineup frequently so when you find a pair, grab two. They also seem to sometimes lean towards outdoor "fashion" rather than function. You need to catch them on a good season for your needs.
Kuhl has the lowest rise on women's hiking pants I've found and they almost always have a drawstring at the waist. While the design is usually slim fitting, their fabrics have plenty of give and move with you.
I wish the pockets were slightly larger but you can shove a phone in, just keep an eye on it. These are durable pants that will last.
Honorable Mention
REI Sahara Convertible: The Sahara gets rave reviews online and from other hikers I know. They lowered the waist back in 2022 and changed to a lighter-weight fabric.
While not perfect, they're decent. They can be difficult to find in your size and fit isn't always consistent. I had to return mine because the side zipper wouldn't stay zipped. These also still aren't the most flattering pants out there.
Pros: Zippers from the knee to the ankle making it easier to remove with boots, colored zippers to identify the right and left legs, lightweight fabric
Cons: Elastic at the back of the waistband can become uncomfortable under a backpack, unflattering design
You can check out the REI Sahara Convertible pants here.