The Best Petite Hiking Pants
Hiking pants that fit, wear well, and don't "grow" as you wear them can make your hike a pleasant experience or an exercise in frustration. It takes time to find the right pants for you body.
This post contains affiliate links. If you click and make a purchase, I may receive payment at no additional cost to you. I only recommend products and brands I know, use, and trust and that I think you would like too. You can read my full disclaimer policy here.
Want to skip to the end? Here's a quick rundown of our votes for the Best Hiking Pants for Petite Hikers.
| | | | |
| --- | --- | --- | --- |
| | Top Petite Hiking Pants | | |
| | prAna Halle Pant | | Retail = $85 |
| | Outdoor Research Ferrosi Pant | | Retail = $80 |
| | Columbia Saturday Trail Pant | | Retail = $60 |
| | The North Face Aphrodite 2.0 | | Retail = $70 |
| | Honorable Mentions | | |
| | REI Sahara Convertible Pant | | |
| | Kuhl KlashTM Pant | | |
If you're a petite hiker, it can be even harder to find that elusive perfect fit. As someone that stands 5'3″, I understand the struggle.
There are two measurements you need to keep in mind when you look for pants.
The first measurement is the inseam. This is taken from the bottom of the pant leg to the middle of the crotch where the four seams come together. It's a measurement of the length of the pant leg.
The second measurement is the rise. This is taken from the top of the waist to the middle of the crotch. It will give you an idea of where the waist will fall on your body.
Compiling the List of the Top 4 Petite Hiking Pants
I asked other petite hikers to give me their two cents and compiled the list below of the top 4 hiking pants for petite hikers.
Surprisingly, there was a lot of commonality in the replies. I personally own and regularly wear all of the top 4 pants.
Since we're all unique, two honorable mentions are added to provide more variety.
The Best Hiking Pants for Petites
Without further ado, here are the top 4 hiking pants for petite hikers.
prAna Halle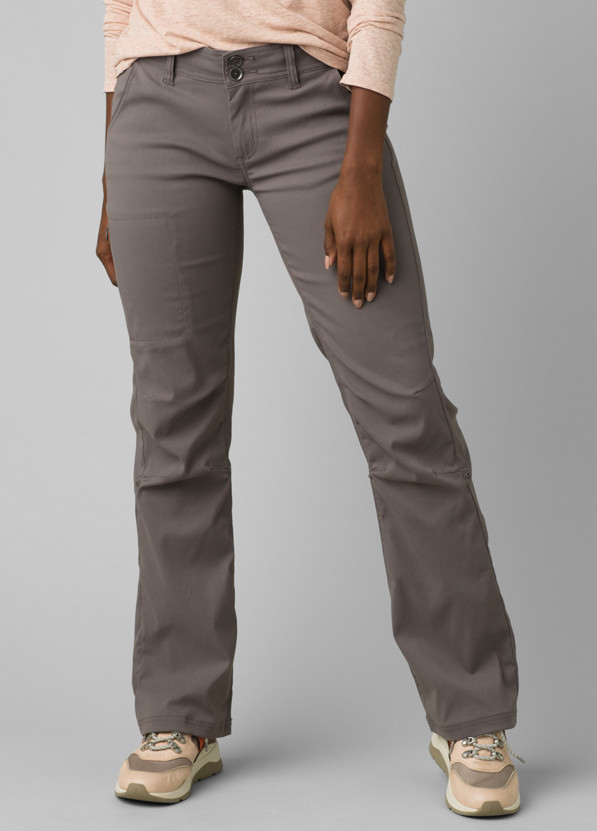 Materials: 97% Nylon/3% Spandex
Weight: 12.2 ounces
Retail: $85
Features: DWR finish, UPF 50, hidden zip stash pocket, roll up legs, articulated knees
Pros: Consistent sizing, sturdy hiking pants, flattering
Cons: Small pockets, stretch as you wear them
Prana is one of my go-to brands and, it turns out, a lot of fellow petite hikers also love them. They have a lower rise keeps great for those with a shorter torso and backpackers who like their waistband to sit lower than their pack.
The front fly features two buttons and a zipper for a polished look, but with a drawstring to help you keep them up where they belong.
All hikers said they fit true to size. I've also found the sizing to be consistent across different models and from year to year. The fabric is soft and will stretch as you wear it so if you're between sizes, consider going down.
One source of frustration is the lack of deep pockets. There's no pocket large enough for newer phone models and the overall placement of the pockets isn't great. I'd love a cargo pocket on at least one leg.
While comfortable, the fabric stretches out over time and begins to thin and pill. I put mine through the wringer and they usually last about two years with heavy use and a lot of bug spray.
Outdoor Research Ferrosi
Materials: 90-denier 86% ripstop nylon, 14% spandex
Weight: 9.5 ounces
Retail: $80
Features: Water resistant, UPF 50, hidden zip stash pocket, roll-up leg, lightweight
Pros: Consistent sizing, sturdy hiking pants, flattering
Cons: Small pockets, stretch as you wear them
I had heard all the rave reviews about the Ferrosi pants and had to try them. Instantly, I saw what everyone loves about these.
It turns out quite a few fellow hikers knew about these pants but were keeping it to themselves.
Lightweight, barely-there material that moves with you and generous pockets make these an easy favorite. The pockets are so deep you could lose an iPhone 11 in them.
Generously cut and with a lot of stretch, my only complaint is I wish they were a bit smaller. The fabric is so light though that you don't really notice any stretch.
Outdoor Research seems to produce a limited stock of their clothing, especially the women's'. This makes it difficult to find the color and size combo you want when you need it.
They also seem to tweak the design every launch so be aware of small differences. The pair I purchased have a button and zipper waist with a drawstring. It appears they recently updated the pants and removed the drawstring.
I can't comment on how well they wear, but other reviewers indicate they hold up well. Designed for rock climbers, they should do well for hikers.
Columbia Saturday Trail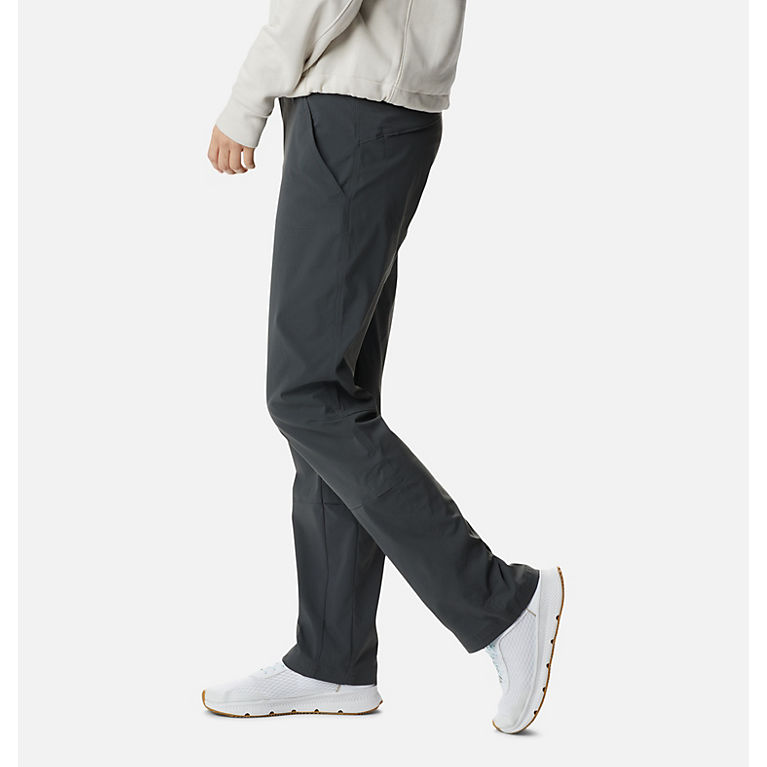 Materials: 96% nylon/4% elastane
Weight: 11.2 ounces
Retail: $60
Features: Water repellent, UPF 50, hidden zip stash pocket, roll-up leg, articulated knees
Pros: Consistent sizing, sturdy hiking pants, flattering
Cons: Small pockets, no drawstring
I've had my pair of Columbia Saturday Trail pants for years. Flattering with a bit of stretch and great coverage, they're perfect for hiking year-round in North Carolina.
The rise is slightly higher and there isn't a drawstring at the waist which is why I usually don't wear them backpacking.
The inside of the waistband is lined in a soft material to add comfort and prevent chafing. The overall cut of the pant is larger than most of the other brands.
Several other hikers mentioned the flattering cut, but I feel they're a bit boxy.
Columbia is eerily consistent with sizing across different models and from year to year.
They don't change their winning models frequently which means there's a good chance you can resupply when you need them.
My Saturday Trail pants have held up well with moderate use.
The North Face Aphrodite 2.0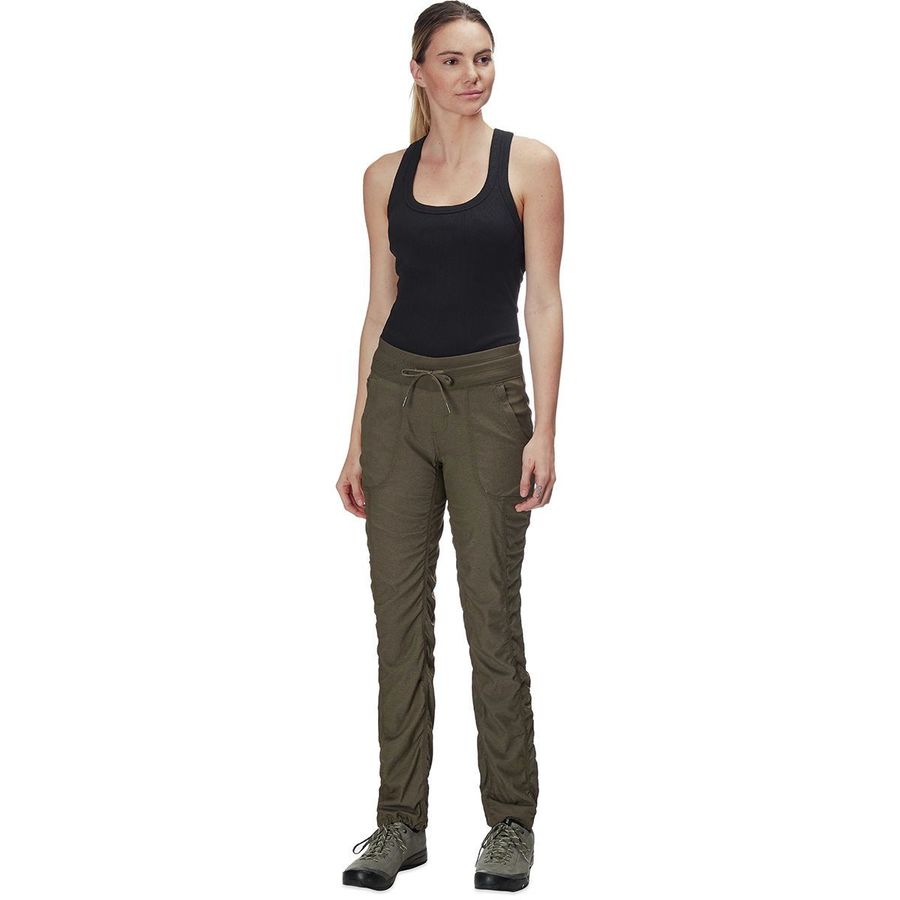 Materials: 95% Nylon, 5% Elastane
Weight: 8 ounces
Retail: $70
Features: 2 inch wide rib-knit waistband, FlashDryTM-XD technology to wick moisture, lifetime warranty
Pros: Flattering, comfortable, good size pockets
Cons: Difficult to hem due to drawcords at ankle, some reports of pilling in the fabric
I've owned my pair of Aphrodite pants for over 3 years and they've held up well. The fabric doesn't tend to stretch out as you wear them which is a plus for me.
While you may initially cringe at the words "elastic waistband", this is the exception. The North Face engineered it to be comfortable and flattering with a 2X2 rib-knit. It won't roll or bunch on you regardless of the activity.
A bonus is that these are some of the most flattering hiking pants you can buy. They go from trail to downtown seamlessly.
A few things to note, since nothing is perfect. The ankle drawcords allow you to adjust the length somewhat, but if they're too long then you'll need to walk away. It's difficult and expensive to hem a pair of pants like this. You would lose the ability to pull them in at the ankle.
The online weight claims 8 ounces, but mine feel heavier and come to 12 ounces with my luggage scale. The material is also not very breathable so I wouldn't recommend these on hot, muggy, days.
Another note is that many reviewers mentioned the fabric pills, especially on the gray pants. I have not noticed this with mine. There is a lifetime warranty against defects, but it's difficult to say if it would apply to the pilling.
REI Sahara Convertible: The Sahara gets rave reviews online and from other hikers I know. The waist sits higher than most petite pants so if you have a longer torso, these could be a good option.
Pros: Consistent cut, consistent availability, zippers from the knee to the ankle, colored zippers to identify right and left legs
Cons: Not particularly flattering, if the length is too long they are difficult to hem due to the zipper down the leg and a snap at the ankle, built-in belt may be uncomfortable with a backpack
You can check out the REI Sahara Convertible pants here.
Kuhl KlashTM Pant: I have Kuhl pants and love them. The company tends to change the line up frequently so when you find a pair, grab two. They also seem to sometimes lean towards outdoor "fashion" rather than function. You need to catch them on a good season for your needs.
The rise tends to be low and they almost always have a drawstring at the waist. Kuhl likes to cut their pants with a slim design, but the fabrics tend to have give and move with you.
Pros: Consistent sizing, water repellent finish, ultrasude wastband for comfort, reverse coil zippers that prevent water from entering pockets
Cons: Pants change every season, small pockets, bottom zipper at ankle which makes hemming difficult
You can check out the Kuhl KlashTM pants here.